Cheeky Little Soles
Why Soft Soles?

Do Babies Really Need Soft Soled Baby Shoes First?

The simple answer is yes! When it comes to your precious baby, nothing but the very best will do. And this rings true to their feet when selecting the footwear to put on your pre walking or first walking baby.
The feet are a very complex part of our body. Did you know that babies feet are made up of 26 bones, 107 ligaments and 19 muscles?!

Over the last decade pediatricians and parents have learned that hard soles and split hard shoes are not suitable for babies as they find their balance and learn to walk. Babies feet are soft and pliable, and pressure from the wrong type of footwear may delay and hinder their development. Pediatricians recommend that bare foot is best for tiny feet to grow and strengthen naturally, but as parents we know it is not always practical. So.... soft soles are the next best thing! Soft soles are extremely flexible and protective, they have wiggle room to allow freedom of movement to grow, grip and develop foot strength naturally.

The best type of footwear for first walking babies is made of natural fibres and mimics bare feet. Heavy hard soles or split hard soles install a false sense of security and consequentially result in more stumbles, falls and possibly accidents. Hard soles or split soles for pre walkers and first walkers can possibly damage the foot arch of a tiny and growing foot; therefore cause problems with proper development, leading to a lifetime of possible chronic foot, knee and back pain.

Are your little one's feet in safe hands?

When your little one starts standing on their own two feet, its a time of exhilaration for you, and endless fun for them. But there's also a lot of ups and downs (literally!), so its incredible important to ensure you're supporting your little one's feet in the best possible way.

Enter Cheeky Little Soles, the family business that has been looking after the tootsies of our littlest Australians for more than a decade. Our soft soled footwear offers protection for little feet without restriction. Our padded non slip soft soles, cushion and support babies important first steps. Our soft soled baby shoe range is cotton lined which allows feet to remain cool in summer and warm in winter. The elastic ankle band is supportive and does not interfere with the foot's natural motion; instead it allows babies feet to flex with ease and freedom of moment and motion.
So if you want to make sure the littlest members of your family are taking their first steps in footwear they love from a brand you can trust, choose Cheeky Little Soles. Our footwear that provides flexibility, protection and plenty of wiggle room for feet to grow, grip and develop.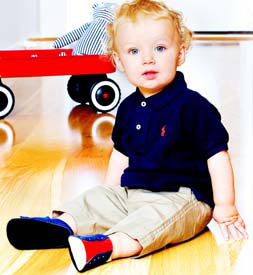 When Should I Put a Rubber Soled Shoe on my Baby?
Once your little one has taken their first steps and is confident in putting one foot in front of the other (after roughly 6-8 weeks), they will be ready to move into a light-weight rubber soled shoe.

We recommend

that your little one continues to wear a soft soled shoe inside whilst they continue to develop their balance.
- See more at: http://www.cheekylittlesoles.com.au/content.aspx?St=true&pageID=12#sthash.U2XPyINQ.dpuf
---
This category is empty! Please try another category or use our search function to find what you are looking for. If you require further assistance please contact us.